The Pivonka family web site - Home
1909 Photographs on Fabric - Jacob M & Antonia Dvorak Pivonka Visit Moravia
Jody West has arranged for Rhonda Kinderknecht (P1414) to scan the fabric 'pillow tops' imprinted with photographs from Moravia, and Rhonda has provided the scan files. The scans seem to have come out very well. The pictures are fairly strongly tinted; I believe that is the color of the fabric, not an artifact of the reproduction.
Now, we have the opportunity to get Marie (P142) and Marjorie (P141) Koons McVey to tell us what they know/remember about these fabric photographs. I assume their grandmother or mother told them something about them, and hope they have hints about who is pictured.
Background:
These 'pillow tops' or covers were in the possession of Aunt Mary Pivonka Hill, P1. They have photographic images, assumed to be silver based, on the fabric. We believe that they are records of events during or near the time of a visit by JM and Antonia Dvorak Pivonka to Ohrozenice, and especially to the Dvorak family in Bohusice, Moravia, in 1909 (or 1906?), possibly for a wedding of one of Antonia's nieces or nephews. (When Jim Pivonka, P571, and his family visited the Frantisek and Stepanka Dvorak family in Bohusice in September, 1978, we were shown identical or very similar pillow cases, and told, with much gesticulation and translation difficulties, that was their origin.) We need much, much help if we are to identify the other family members who are in the photographs. We will be reviewing old photos, and re-reading the "Record" book to see if there are clues there.
If anyone has any suggestions as to how to locate, contact and exchange email with Czech speaking relatives in the Czech republic, please email pivonka571@earthlink.net, we will be grateful for your ideas. We understand that Lois Pivonka (Mrs. Roger) Maickel of LaFayette, Indiana, had correspondence from relatives in Jaromerice within the last few years, so if anyone has a way to contact Lois, that would be useful too.


Photograph printed on fabric:
In possession of Marie and Marjorie Koons McVey, 2001
Identical fabrics were shown Jim Pivonka in 1978, in Bohusice,

Ca. 1904 photo:
Dvorak family in Bohusice, after "Uncle Frank" death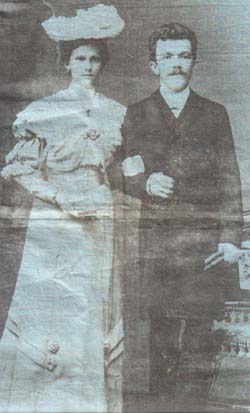 Leo Pivonka, P57, of La Crosse, KS, has a photograph of the wedding couple identical to that shown on this fabric. Unfortunately, there is no information about 'who or when' on the photograph, only a note "Relative of Fr. Pivonka", and the Photographer's information: 'V. Sonntag, K.A. Dvorni Fotograf, KROMERIZ, Kazde rosmnozovani vyhrazeno'


The couple at the far right, bottom row, are identified as "Jacob Method Pivonka and his wife Antonia Dvorak Pivonka" and the (image reversed) photograph is described as "...may have been taken when they went back to visit Czechoslovakia in 1906." in the first page of "Pictures and Biographical Sketches" of the "Record". The date of that trip is in doubt as other sources (Ellis Island records) are said to indicate Jacob and Antonia returned to the US in 1909. Did the trip extend from sometime in 1906 to sometime in 1909?